NY Custody Factors
OVERVIEW OF THE FACTORS CONSIDERED BY NEW YORK COURTS WHEN DETERMINING CUSTODY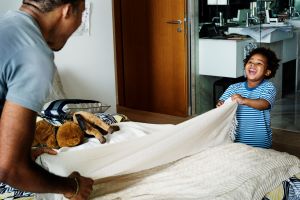 There are no (or very few) absolutes[1]"[T]here are no absolutes in making these determinations; rather, there are policies designed not to bind the courts, but to guide them in determining what is in the best interests of the … Continue reading when courts determine custody. Courts must award custody by considering the "best interests of [each] child." There is no prima facie right for either parent to be awarded custody[2]DRL §§ 70[a] & 240[1][a]. and the court must decide "best interests" by looking at the "totality of the circumstances." That means that everything is potentially relevant in a custody battle. Moreover, if the parties do not agree to share "joint legal custody," the courts cannot order it.[3]Braiman v. Braiman, 44 NY2d 584, 587 (1978) ("Entrusting the custody of young children to their parents jointly . . . is insupportable when parents are severely antagonistic and embattled."). Thus, courts have considered (in no particular order[4]Please note that some footnotes were intended to cover several entries but other sub-entries were later inserted, so please double check every citation before relying on it.):
the quality of each parent's home environment;[5]C.M. v. C.M., 47 Misc.3d 1210(A), 15 NYS3d 710 (Sup. Ct., Richmond Cty., 2015)(Catherine M. DiDomenico, J.), quoting Matter of Blanc v. Larcher, 11 AD3d 458 (2nd Dept., 2004).
each parent's hours of employment;
relationship with others in the home;
extended family;
parent's desire to move away;[6]Gadsden v. Gadsden, 144 AD3d 1035, 1036, 42 NYS3d 58, 59 (2nd Dept., 2016).
each parent's relative fitness as a parent;
parent's age, physical & mental health, stability;
substance abuse;
cigarettes?
false accusations of abuse;
exposure to inappropriate material;
prejudices and bigotry;
the parental guidance provided by each parent–each parent's ability to guide and provide for the children's overall well-being, including their educational, emotional, social and intellectual development;
child's emotional and psychological profile and which parent suits it better;
culture, ethnicity & religion;
attempts to manipulate the child;
each parent's ability to provide for the child financially,
financial stability & responsibility;
what the effect an award of custody to one parent might have on the child's relationship with the other parent[7]Minjin Lee v. Jianchuang Xu, 16 NYS3d 300 (2nd Dept., 2015) quoting Matter of Maraj v. Gordon, 102 AD3d 698, 698, 957 NYS2d 717, itself quoting Matter of Berrouet v. Greaves, 35 AD3d 460, 461, 825 …

Continue reading

the ability and willingness of one parent to foster the child's relationship with the other;
the interference of one parent with the child's relationship to the other;[8]"Parental alienation of a child from the other parent is an act so inconsistent with the best interests of the children as to, per se, raise a strong probability that the [offending party] is unfit …

Continue reading

the empathy, attachment, judgment, and flexibility that each parent exhibits with respect to the children and the other parent;
the compatibility of a parent's strengths to the child's needs;
domestic violence whether physical, verbal, or emotional;[9]C.M. v. C.M., supra, citing Bressler v. Bressler, 122 AD3d 659 (2nd Dept., 2014).
the child's own preference[10]C.M. v. C.M., supra, citing Granata v. Granata, 289 AD2d 527 (2nd Dept., 2001).
child's age and maturity;
a parent's failure to comply with Court orders[11]C.M. v. C.M., supra, citing Matter of Morissey v. Morrissey, 124 AD3d 1367 (4th Dept., 2015); Radford v. Propper, 190 AD2d 93 (2nd Dept., 1993).
the stability and continuity afforded the child by continuing existing custodial arrangements;[12]C.M. v. C.M., supra, citing Cervera v. Bressler, 90 AD3d 803 (2nd Dept., 2011).
voluntary agreement or court order?
where the child's other siblings are living[13]C.M. v. C.M., supra, citing Matter of Ivory B. v. Shameccka D.B., 121 AD3d 674 (2nd Dept., 2014; Matter of Stramezzi v. Scozzari, 106 AD3d 748 (2nd Dept., 2013).
the recommendations of the forensic evaluator;[14]C.M. v. C.M., supra, citing Matter of Doyle v. Doyle, 120 AD3d 676 (2nd Dept., 2014).
the recommendations of the attorney for the child;[15]C.M. v. C.M., supra, citing Matter of Guiracocha v. Amaro, 122 AD3d 632 (2nd Dept., 2014); Matter of Conway v. Gartmond, 108 AD3d 667 (2nd Dept., 2013). and, of course,
ANY OTHER FACTOR the court deems relevant.
The weight to be afforded each factor is within the discretion of the court.[16]C.M. v. C.M., supra, citing Bourne v. Bristowe, 66 AD3d 621 (2nd Dept., 2009).
Obviously, therefore, every custody dispute requires an individual inquiry and analysis, and a determination by an experienced lawyer in the field to assess a parent's chances of success considering all the relevant factors in each particular case.  We invite you to call us if you want to discuss your individual case.

To learn more about this or another topic relating to divorce and family law, check out our free Free New York Divorce Guides or call us today at (212) 964-6100!
Contact A Manhattan Custody Lawyer Today
Of course, you will need a skilled lawyer to protect and defend you and your rights. Call our offices for a free telephone consultation and to learn how we can help you. A Manhattan Family Law Attorney at Chaim Steinberger, P.C. can give you a solid foundation for meeting your goals during divorce, legal separation, annulment, and more.